Current Events / New Projects



France: The Freedom and Solidarity Forum and D-Day Ceremonies,
June 2014
USA Youth Debates Inc. is honored to be part of the Freedom and Solidarity Forum June 4-5 to coincide with the 70th Anniversary of D-Day commemorating the invasion of allied forces into France on June 6, 1944.
The Forum will take place under the patronage of President François Hollande, President of the French Republic. The conference will bring together American, Canadian and European political leaders, heads of international organizations, thought leaders and young talents.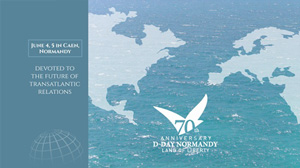 USA Youth Debates, Inc. and the European Youth Parliament will start the Forum on June 4 with a debate at the Abbaye aux Hommes in Caen. Built in 1063, the Abbaye should be an inspiring place with a very strong topic being debated. On June 6, the delegation will travel to the American Military Cemetery with President Obama and President Hollande for D-Day observances above Omaha Beach. USA Youth Debates is continuing a tradition of being in Normandy for the 60th(2004) and the 65th(2009)
The opportunity to debate at the Forum, join observances on this historic occasion, stay with host families in Normandy and engage with the European Youth Parliament is a great honor and privilege.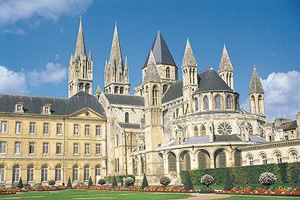 Photo left:
The historic Abbaye aux Hommes in Caen. Ordered to be built by William the Conquerer before he launched the Norman invasion of England, the Abbaye is now the City Hall of Caen and our site for the Debate on June 4 as we open the Freedom and Solidarity Forum. After the debate, a reception and dinner will follow with France's Foreign Minister Laurent Fabius and U.S. Secretary of State John Kerry hosting the event.
USA Youth Debates Inc. took delegations of students to France for debates in 2004 and 2009 to coincide with the 60th and 65th observances of the June 6, 1944 landings by Allied forces to retake France and other countries occupied by Hitler in WWII. In 2014, the organization will travel to France for the 70th Anniversary and be part of the Freedom and Solidarity Forum in Caen. During the trips in 2004 and 09, students got to meet veterans, including American, British, Canadian and Free French Resistance. During ceremonies at Colleville-Sur-Mer at the U.S. Military Cemetery just above Omaha Beach, students got close to veterans and political leaders with President Bush and President Chirac, Secretary of State Colin Powell, Director of "Saving Private Ryan Steven Spielberg and actor Tom Hanks and many others in the media and government. In 2009, students got to see President Obama and President Sarkozy pay tribute to what happened on that historic day in 1944. In 2014, students will be attending ceremonies along with debating at the Freedom & Solidarity Forum with students from the European Youth Parliament.
Freedom & Solidarity Forum - 2014